Biography Of Evangelist Reinhard Bonnke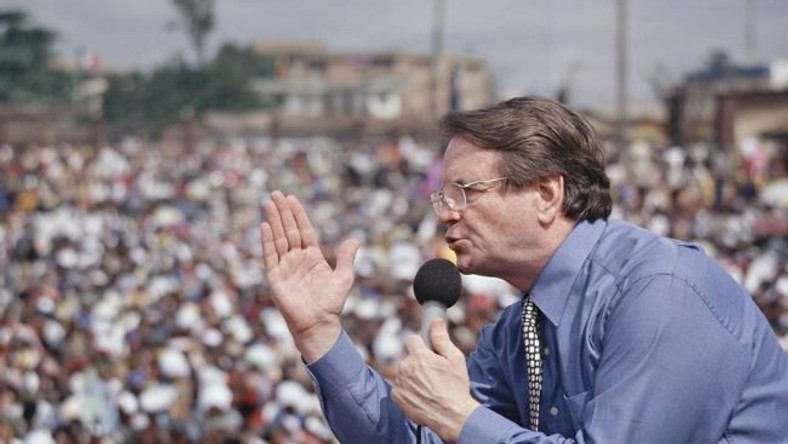 Reinhard Willi Gottfried Bonnke is a German Pentecostal[1] evangelist, principally known for his gospel missions throughout Africa. Bonnke has been an evangelist and missionary in Africa since 1967. Bonnke has had 75 million recorded decisions for Christ made during his crusades. He has preached the gospel to more people than anyone in history.
Early life
Reinhard Bonnke was born on 19 April 1940 in Königsberg, East Prussia, Germany. He was born again at the age of nine after his mother spoke with him about the punishment for a sin he committed, unless Jesus saved him. He felt a call to preach the gospel in Africa at the age of 10 and says that he had the experience of Baptism in the Holy Spirit. He is the son of a pastor and ex-serviceman in the German Army who initially did not take Bonnke's call to preach the gospel seriously.[citation needed]
Bonnke studied at The Bible College of Wales in Swansea, where he was inspired by the director Samuel Rees Howells. In one meeting after Howells spoke of answered prayer, Bonnke prayed, "Lord, I also want to be a man of faith. I want to see your way of providing for needs."  After graduation, he pastored in Germany for seven years. He began his ministry in Africa, with which he is principally identified, preaching in Lesotho in 1967. He has subsequently held evangelical meetings across the continent.
African mission
Encountering poor results from his evangelistic efforts and frustrated at the pace of his ministry. He had a dream with a picture of the map of Africa being spread with red and heard the voice of God crying "Africa Shall Be Saved". This dream recurred four nights in a row and led him to adopt large scale evangelism, rather than the traditional small scale missionary approach. He rented a stadium in Gaborone, and preached with little cooperation from local churches. Beginning with only 100 people, the stadium meetings grew.
Bonnke began his ministry holding tent meetings that accommodated large crowds. According to an account published by the Christian Broadcasting Network, in 1984 he commissioned the construction of what was claimed to be the world's largest mobile structure – a tent capable of seating 34,000; this was destroyed in a wind storm just before a major meeting and therefore the team decided to hold the event in the open air instead. According to this account, the event was subsequently attended by over 100,000 people which is far greater than the 34,000 seating capacity the tents could contain.[4]
Controversy
In 1991, during Bonnke's visit to Kano in Nigeria, there were riots in the city as Muslims protested over remarks he had reportedly made about Islam in the city of Kaduna on his way to Kano. A rumor was spread that Bonnke was planning to "lead an invasion" into Kano. Muslim youths gathered at the Kofar Mata Eide-ground where they were addressed by several clerics who claimed that Bonnke was going to blaspheme Islam. About 8,000 youths gathered at the Emir's palace and after noon prayers the riots ensued, during which many Christians sustained various injuries and after nine years he returned to Nigeria to preach.
In the early 1990s Bonnke, who had prophesied a major world revival which would start in the United Kingdom, was involved in an initiative to reverse the decline in church attendance there. This involved the distribution of millions of copies of a booklet he had written called Minus to Plus to homes throughout the country, which was hoped to win 250,000 converts. However, only 20,000 were claimed to have been 'won over', and these were mostly those returning to the faith rather than coming to it for the first time. Church attendance in the United Kingdom continued to decline.
Personal life
After graduating from the Bible College of Wales and returning to Germany, Bonnke led a series of crusade meetings in Rendsburg. He began receiving speaking invitations from all around Germany and the rest of the world. Bonnke met Anni Suelze at a gospel music festival, and admired the grace with which she recovered from a wrongly pitched music performance at the expense of losing the competition. He offered to preach at the church she attended one Sunday and fell in love with her. They married in 1964 and have three children and eight grandchildren.
Autobiography
Bonnke's Autobiography, Living a Life of Fire is a collection of stories of his life including accounts of his childhood growing up during the Second World War and living in prison camps to his early years in ministry and how he believed God used him to bring the gospel of salvation to Africa.
Maseru, Lesotho. The destination, in 1969, of a young German missionary, his wife Anni and their baby son. The place where it all began as God shaped a young man of faith and began to mold the "character of faith" in him that would later challenge the devil across the entire continent of Africa and scores of still undreamed of places beyond.
Reinhard and Anni Bonnke spent seven long years in Maseru, doing the work of missionaries in the traditional way. But during those years the call to evangelism that burned in his soul took wings, until by repeated miracles and moves of the Holy Spirit, literally millions of men and women across the world have heard the good news of the Gospel through his anointed ministry.
---
our ministry through the years | gallery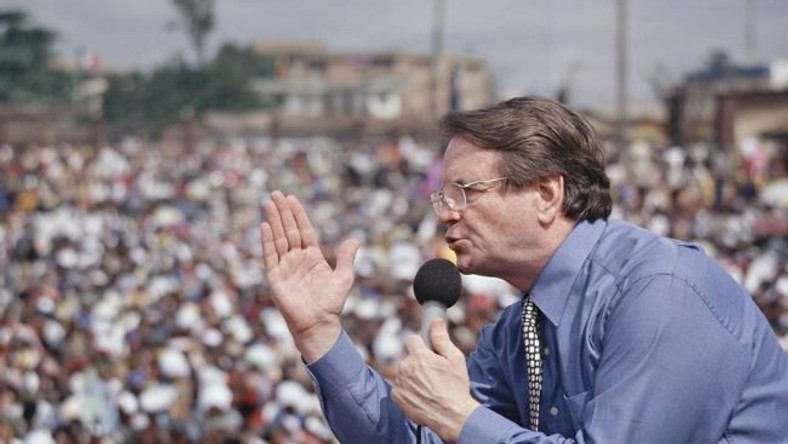 ---
In those early days in Lesotho, God showed Reinhard a vision of a "blood-washed Africa." Even though at that time there was little or no evidence in his ministry that such a grand idea was even remotely possible, Reinhard took hold of the vision and in Jesus' name began to speak it and live it.
In 1974 the evangelistic organization that is today still known as Christ for all Nations, was born and a small team gathered around the young evangelist to reach out to the peoples of Africa. The preaching of the Word began to produce a harvest of souls and in addition to this, people were being healed of all kinds of diseases.
With only one small fellowship co-operating, the meetings began and Reinhard's disappointment can be imagined when only one hundred people came to the first meeting. He nevertheless preached as if the place were full and to his complete amazement, after only a few minutes, a man in the congregation jumped to his feet and disrupted the proceedings by shouting out, "I've just been healed!" This was repeated five times over as others shouted out the same thing, resulting in an outburst of joyous praise.
The news that God was doing miracles in the stadium soon spread across the city and by the final meeting, for the first time in his short ministry, Reinhard preached to a packed stadium. Thousands streamed forward for forgiveness of their sins, hundreds were healed and thousands more were baptized in the Holy Spirit – and this was just the beginning. On a return visit to the country of Botswana twelve years later, the leader of a large denomination reported that eighty percent of his current pastors were converts from that first crusade in Gaberones.
The Yellow Tent
Events moved rapidly after this as the Yellow Tent seating ten thousand people was built and the results of the ministry began to grow. Follow-up teams were formed to help usher the new converts into the local churches and preparation teams began to travel in advance of the ministry team to prepare the ground for harvest.
The Big Tent
Before long the need for a larger tent was crystallized into action by a word from the Lord about the biggest tent of all, one that would seat thirty-four thousand people. Large enough to completely cover three football fields, with masts that rose as high as a six-storey building, the "Big Tent" was a giant in every respect. It stood like a gigantic combine harvester, ready to move out into the ripe harvest fields of Africa.
Open-air crusades became the order of the day as hundreds of thousands flocked to every meeting. In one particular crusade held in Lagos, Nigeria, 1,600,000 people came to a single meeting with a total of six million attending the five days of services. The ministry team moved from East Africa to West Africa and back again as the two, now separate, technical and support teams, organized events on opposite sides of the continent of Africa. Since the beginning of this evangelistic ministry, Reinhard Bonnke has preached face to face to multiplied millions of people in Africa alone, and of that vast number, over seventy four million responded to the call of salvation by filling out decision cards and were ushered into the church follow-up program.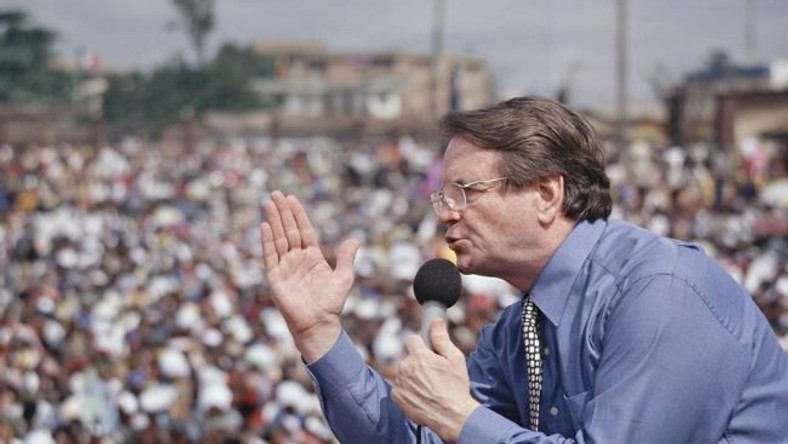 Beyond Africa
The ministry increased the number of crusades held per year in Africa and also began to branch out to Asia by holding one crusade per year in that part of the world. Crusades followed in Malaysia, the Philippines, Indonesia, Singapore and India, with three or four taking place in South America as well. Each event resulted in tens of thousand receiving Jesus Christ as their Savior, and multitudes were healed and delivered from demon forces.
Before Caesar
As news of what God was doing went ahead of the team, the reception in many places began to change. Some closed their doors to the prospect of such active Christianity but many more opened up gladly. People in high places also began to take note of the huge crowds and the positive impact that the Gospel was having, and Reinhard Bonnke soon found that he was being asked to meet State Presidents and to address Houses of Parliament. Many leading national figures opened their own hearts to the message of the Gospel while meeting privately with Reinhard and to date, he has personally met with fourteen different State Presidents in Africa, and counts a number of them as personal friends.
From Minus to Plus | Beyond '99
In the industrialized world, the literature outreach known as "From Minus to Plus" has reached into 95 million homes in twelve different countries with tens of thousands of churches receiving converts from the resulting enquirers. The countries touched in this way are the United Kingdom, Ireland, Germany, Austria, Switzerland, Liechtenstein, Norway, Denmark, Sweden, Hong Kong, Canada and the United States of America. This vision still continues actively at this present time in Finland, Greenland, Iceland and the Faroe Islands.
A little-known arm of this ministry is CfaN's literature work. Reinhard Bonnke has written a number of books and booklets. At present, a total of over 179 million books have been translated into over 123 languages and dialects, and are being printed in 53 different countries.
Yet Greater Harvests
Such is the magnitude of what God has done and is doing as His servants are obedient to His words and go out to bring in the harvest. CfaN moves on, from country to country, a seemingly endless parade of nations hungry for the Word that will bring Life and proclaim that Jesus Christ is truly Lord of All. We will see greater harvests as the Lord works through us and as you stand together with us faithfully in prayer and financial support. Together we will indeed be able to save countless souls from their sure destination of hell, to populate heaven.