An educated, widely traveled and opinionated Emir is the last person the establishment wants to be dealing with.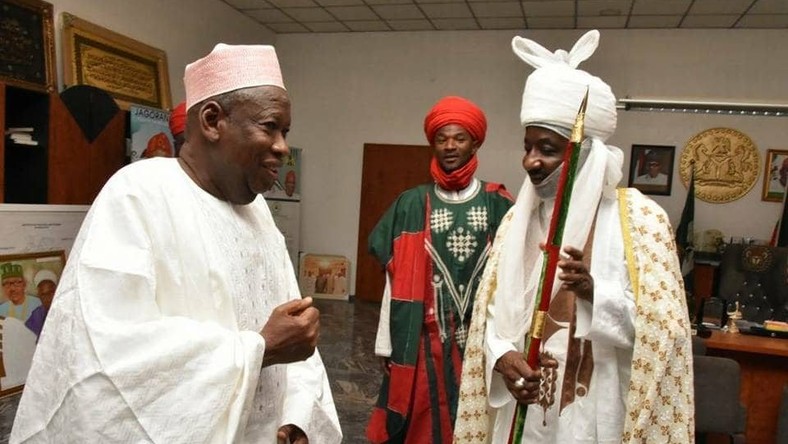 The 14th Emir of Kano, Sanusi Lamido Sanusi, will wake up this morning in Nasarawa or in some remote location, exiled, placed under house arrest, deprived of access to visitors, sipping from a cup of Arabian tea and cut off from the rest of the world.
He is not to be seen on the streets unless he is granted state pardon. He is not even going to be allowed to wave at admirers or experience the beauty of the weather from his balcony.
Just because that's how it works when you are dethroned as Emir.
To enforce his dethronement, Sanusi had police and security operatives storming his residence and marching him to a waiting car and aircraft like a common thief. All in a day's job.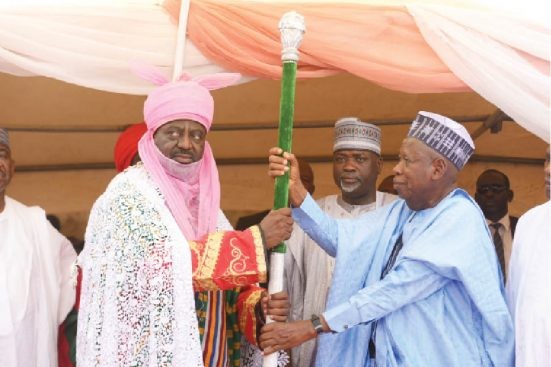 New Kano Emir Bayero receives his staff of office from Governor Ganduje (Daily Trust)
My friend who is the Special Adviser to the Kano State Governor Abdullahi Ganduje on Media, Salihu Tanko-Yakasai, says Sanusi's dethronement as Emir had been long in coming because he had taken to disrespecting the governor and his office, shunning events organised by the Kano state government and that the Emir had brazenly displayed acts amounting to insubordination time and again.
"Emir Sanusi had direct access to Governor Ganduje…but preferred to take to every podium and forum to air his views and criticize the government," Tanko-Yakasai says with a shrug.
Kano Governor Ganduje and members of his council announce Sanusi's dethronement as Emir (Twitter: @Dawisu)
Anyone who has been monitoring political events in Kano should not in any way be surprised by Sanusi's deposition of Monday, March 9, 2020.Ganduje just couldn't stand the Emir anymore and the Emir had long gotten under the governor's skin.
The relationship between the governor and the Emir took a turn for the worse after Sanusi all but openly endorsed the PDP candidate, Abba Kabir-Yusuf,ahead of the Kano governorship and rerun elections in March of 2019.
It was an angry Ganduje who then balkanized the Kano Emirate and created four new emirates off it in August of 2019, ostensibly to whittle Sanusi's powers and influence, emasculate the first class Emir and render him irrelevant.
A straight talker and intellectual, Sanusi was always going to fall out with Ganduje or any other Kano governor, one way or the other. Tanko-Yakasai says Sanusi was so hot-headed, he received as many as four queries under former Kano Governor Rabiu Kwankwaso and one such query under Ganduje.
Those who can't stand the man–and Ganduje was one–will swear that Sanusi is an arrogant elitist or non-conformist set in his own ways.
Sanusi had a way of getting under everyone's skin (Guardian)
A former Governor of the Central Bank of Nigeria (CBN), Sanusi's straight talking got him into trouble with then President Goodluck Jonathan who promptly suspended him for accusing his administration of corruption. Folks who shared offices with Sanusi at First Bank and UBA also share similar tales of the man. He was a 'my way or the highway kind of guy.'
However, as an economist and reformer, Sanusi is the kind of public intellectual who wears his heart on his sleeves and who loathes politicians and politics to a degree. In a BBC interview he granted immediately after his stint as CBN Governor, Sanusi swore never to become a politician. "I am not ready, I don't want it and I'm not interested (in politics). I feel that if I go into politics, it would destroy everything I have done. I cannot survive one year in that space. I think it takes a particular type of skill to be a politician and I don't have those skills," he had said.
It is that conflict or dichotomy between the intellectual and the politician that inevitably landed Sanusi on a warpath with Governor Ganduje. You could tell he hated Ganduje's ways and politics and that he couldn't stand the man or his ilk.
You could also tell that as Emir, Sanusi hated some of the cultural, traditional and religious practices that have held back the north of Nigeria for decades and that have made the region the poverty capital of the country–the same practices the political class have done nothing about because these practices keep the people enslaved.
So, when Sanusi took to podiums at public forums, conferences or symposiums, he saw an opportunity to speak against child marriages, the Almajiri and scold his people for some of the practices that have kept them perpetually poor and worse off. In an attempt to liberate minds, he must have offended the slave masters.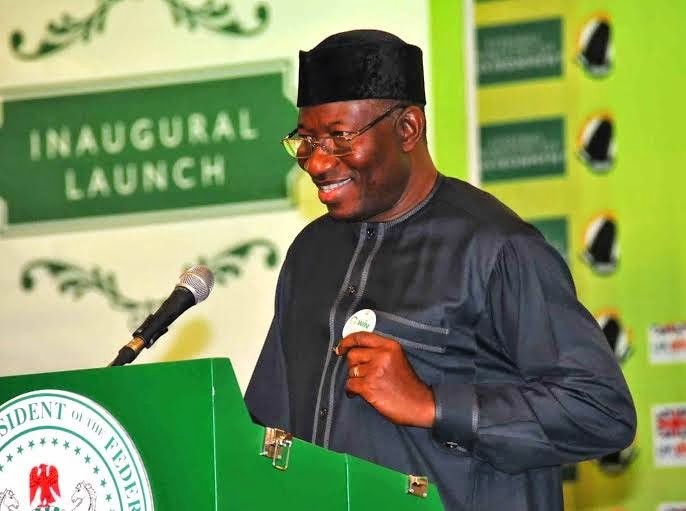 Goodluck Jonathan suspended Sanusi for blowing the whistle on his government in 2014 (Jonathan media)
Essentially, you could say Sanusi is a largely misunderstood man. The kind of man politicians can't stand because he gets on their nerves with his superior knowledge, world view and better grasp of issues. Politicians don't like folks who tell them the truth or stand up to them; and Sanusi has just paid for his innate candour and outspokenness with his throne.
Sanusi's removal is also a metaphor on the powers of the state or of state governors. Governors do have the powers to dethrone and enthrone any monarch because these monarchs basically live off them or survive from the stipends provided by the state.
Post-colonial rulers are proving even more brutal than their colonial predecessors in this regard. The other day, we saw Governor Nyesom Wike of Rivers State publicly dress down or insult a traditional ruler and heavens did not fall.
As Tolu Ogunlesi, who is President Buhari's New Media aide, puts it, "a sitting governor can dethrone anybody because they have the power to. That is the way the system is set up. Nobody is above being dethroned. Governors formally appoint them, present them staff of office, fund their offices. Whether this should be so is another matter entirely."
In 1998, then military administrator of Edo State, Navy Captain Anthony Ibe Onyearugbulem messed with the Oba of Benin when he removed the monarch as Chairman of the Edo State traditional council.
Writing in The Guardian at the time, Reuben Abati reminded Nigerians of the superiority of the state over traditional institutions. "The imposition of modern governance has eroded the monarch's authority. Postcolonial authorities have proved to be worse than the British. Traditional rulers, in order of protocol, are rated below state administrators.
"They have become civil servants to be issued queries and directives. What Onyearugbulem has done is to reaffirm the supremacy of the new modern elite, and remind not just the Benin throne, but all other traditional institutions of their increasing irrelevance."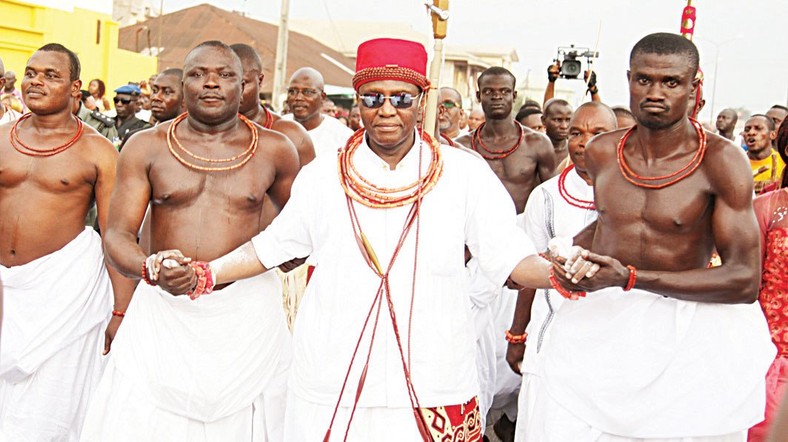 Oba of Benin Kingdom, Eheneden Erediauwa and his men (Punch)
Legend has it that Onyearugbulem paid with his life when he was found dead in a Kaduna hotel room in 2002, for messing with the Benin Oba.
Sanusi will definitely be back someday with his hot takes on socio-economic issues, in some other capacity. He's too intelligent, too urbane and too full of knowledge to be kept under lock and key in perpetuity. The man has still got a lot to offer a country in need of voices like his.
But I'm sure he would have been completely chastened and schooled by this experience and would return a more street-smart, wiser man. We now live in an era when the thieving politician is king and that is not about to change any time soon.
Cry, the beloved country!