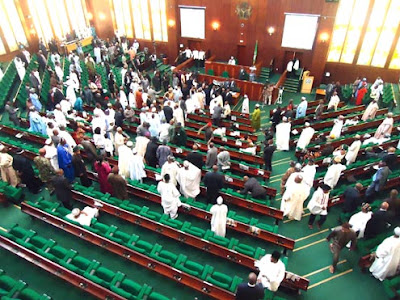 The Nigerian National Assembly has reportedly received a proposal to change the country's name from Nigeria to the United Africans Republic (UAR).
According to The Cable, the proposal was submitted to the committee by Adeleye Jokotoye, a tax consultant in Lagos state on Wednesday.
Adeleye's reason for proposing this change is because the name "was not coined by a citizen but given to the country by Flora Shaw, wife of Lord Lugard, a colonialist." He also believes it will promote peace and unity in the country," The Cable reports.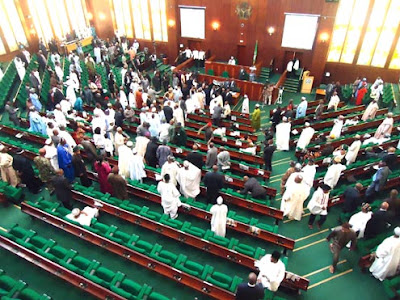 Read the proposal below:
First and foremost, I want to recommend a name change from Nigeria to the United Africans Republic (UAR).

The significance of name change cannot be overemphasised. Even God our father, in the Holy books, changed names of prophets e.g. Saul to Paul, Jacob to Israel, etc. The reason for name change is to physically and psychologically reflect a new beginning.

Thus, at this crossroads in our history, it is mandatory that we change our name to reflect a new beginning which will be ushered in with a new constitution. The word 'Africa' is a Greek word meaning 'Without Cold'. Africa was originally called 'Alkebulan', meaning 'Mother of Mankind' (Garden of Eden).

Alkebulan is the oldest and the only word of indigenous origin used by Moors, Nubians and Ethiopians. So, if we like, we can go a step further and name our nation, United Alkebulan Republic (meaning 'United Mother of Mankind Republic).

The new constitution should also give room for continuous review as and when due, and future referendum if required also want to suggest the following.

The constitution should provide for a council for each of these offices where six members from each geo-political zone will be represented to take collective unanimous decisions for the office, instead of one man holding all the powers of the office.

These council members will attain the position by seniority and numbers of years in service, and they will each need a department in the service as well as being council members.
Nigerians have since taken to social media to express their opinions concerning the proposal and here's how everyone is reacting:
Now that you people are planning to change Nigeria's name to United African Republic, What will I do with My Great nation song?!

Una Dey stress me too much.

— Timi Dakolo (@timidakolo) June 2, 2021
Renaming the country United African Republic will not change anything. People just want security, light, good roads and a working economy. Is that too much to ask for?

— Wale Adetona (@iSlimfit) June 2, 2021
United African Republic??
Renaming Nigeria is not Nigerians PROBLEM!! Give us GOOD ROADS, SECURITY, ELECTRICITY, HEALTH CARE.. Just give us BASIC AMENITIES❕

— TACHA🔱🇳🇬🇬🇭 (@Symply_Tacha) June 2, 2021
Which one is United African Republic again? I just want to have Light na. pic.twitter.com/eCfM4F6ko7

— 👑 (@lorde_withus) June 2, 2021
Must have thought United in the name makes the country rich. United African Republic (UAR) like the United Kingdom, United Arab Emirates, United States. Lol. Someone spent weeks working on that idea. Probably even got a grant. Lol. I am tired.

— JJ. Omojuwa (@Omojuwa) June 2, 2021
So our problem as a country is how to change name from Nigeria to United African Republic. This is the height of madness

— Dr PamPam | Omo Iya Ologi (@UnclePamilerin) June 2, 2021
Him : hey shawty, where you from?

Me : I'm from The United African Republic , baby🌚🥴

— 🦋🦋 🦋 (@OLAMIJI___) June 2, 2021
They wan do baptism for Nigeria , which one be United African Republic again🤦🏾‍♂️

— Samuel Mbah (@Mbahdeyforyou) June 2, 2021
Hope changing the name of Nigeria to United African Republic (UAR) won't cost us $419Billion? pic.twitter.com/WAMgZ2LKvE

— Prince (@OgbeniPrince) June 2, 2021
China: Nigeria we've come to collect our money.
World Bank: Nigerians arrange our money, we will be collecting it soon
IMF: Nigeria our money ooo

Nigerians: b…b…but we are United African Republic Na pic.twitter.com/ZCf0BLuePc

— Ogechukwu (@benedictaee) June 2, 2021
Changing the name Nigeria to United African Republic makes no difference or significant impact to present day Nigeria. Its just like moving from APC to PDP, different brand, same people…. I.e New wine in old bottle or rather, old bottle in new wine!

— 𝐌𝕆𝐇𝐍𝐈𝐂𝐄🕸️ (@Mohnice_) June 2, 2021
Nigerian Bar Association is gonna change to "UARBA" and ICAN will change to "ICAUAR" when it's not bet9ja code ffs 😭

Do you still want United African Republic? pic.twitter.com/Lob6zbz4IQ

— ALAGBADA the BOMB (@BadmanBomb) June 2, 2021
Come to think of it. United African Republic sounds great. The problem is that. We can never be United. If Pakistan and India couldn't work as one nation. then United African Republic will still never work.

No going back on Yoruba nation.

— IFA FUNSHO (@funshographix) June 2, 2021
The problem of Nigeria is not the name but the foundation. Changing Nigeria's name to United African Republic is like when NEPA changed its name to PHCN, still no light. It's time we stop being Delusional and start facing reality that the only solution to Nigeria is separation.

— Ada-Eze (@Real_AdaKing) June 2, 2021
Person go sleep for Nigeria, then wake up for United African Republic pic.twitter.com/3shxp852dH

— Caleb of Lagos (@caleboflagos) June 2, 2021
If a man from Nigeria is called a Nigerian, a man from United African Republic (UAR) is called?
Me: Uranium pic.twitter.com/rlaBmtTzDz

— Kelvin Uwumarogie (@kelvinrogie) June 2, 2021