#African News
#News
How Atiku Abubakar made his money
How did a poor boy from Kojoli become a national political figure with hundreds of thousands of Nigerians on his payroll?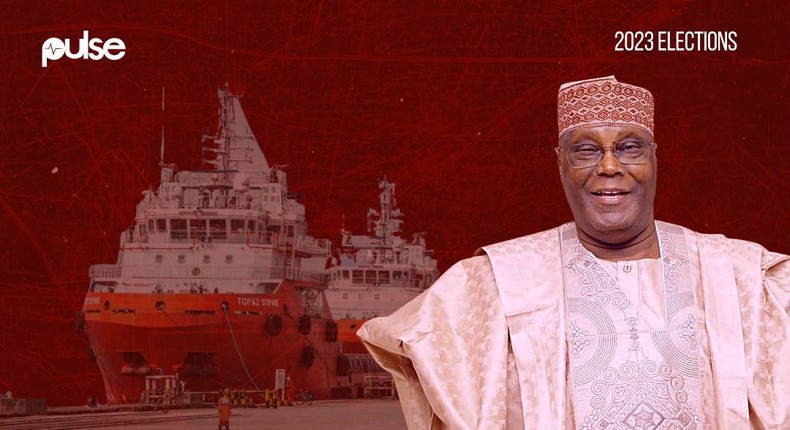 In the Nigerian political industry, the former vice-president, Atiku Abubakar, is one of the wealthiest politicians the country has ever known. His lifelong presidential ambition, which started in 1992, has kept him in the public eye and earned him a reputation as a man with very deep pockets.
Generally, Nigerians believe politics is a get-rich-quick scheme for politicians because many of them obviously don't have traceable income sources before joining politics.
With his sixth attempt to become Nigeria's president set to be decided at the polls on February 25, 2023, it's important to interrogate how Atiku amassed his wealth.
How did a poor boy from Kojoli, a small village in Jada Local Government Council of Adamawa State, become a national political figure with hundreds of thousands of Nigerians on his payroll?
First job
Atiku's history of making and saving money purportedly dates back to the early 1960s when he was a 15-year-old secondary school student. To support his family after the death of his father, he secured a job at Ganye Native Authority where he worked as a clerk during the holidays.
With his earnings, Atiku bought a mud house for his mother in Ganye, the headquarters of Jada. According to him, it cost him about nine pounds sterling.
Making money as a customs officer
In 1969, while studying for a Diploma in Law, Atiku was recruited by the Federal Civil Service Commission and was posted to the Idi-Iroko border station in Ogun State.
As a customs officer, his primary duty was to collect duties on imported and exported goods as well as arrest and prosecute smugglers. But according to him, instead of just seizing goods and extorting money from their owners, he made money for the government.
He also started a transportation business with four pickup vans he acquired on a hire-purchase agreement with SCOA Nigeria Plc. The four vehicles were used to transport female traders from Ajase, a town in the Republic of Benin, to Lagos.
Investment in properties
In 1974, Atiku ventured into property investment. At the time, the customs officer, whose salary was around N500, applied for and obtained a Federal Staff Housing loan.
"The loan, which amounted to N31,000, was the equivalent of my salary for five years. I was granted a plot of land by the Gongola State Government at Yola Government Reserved Area (GRA)," Atiku said in an interview.
After taking the loan, he built his first house, a bungalow, and rented it out. He used the rent to buy another plot and built a second house.
"I continued to plow back the rent into the building of new houses and within a few years, I had built eight houses in choice areas of Yola. I also built a new house for my mother and rebuilt the old mud house," he said.
His property investments were so rewarding that, within six years, he acquired more plots of land and built more houses in Yola, Kaduna, and Abuja.
He would later establish Prodeco Engineering, a construction company to strengthen his building business and at the same time ventured into civil and infrastructure engineering solutions.
Oil and gas money
In the 1980s, Atiku moved from property investment to the oil and gas industry which he considers his most lucrative business.
Following his transfer from Ibadan to Apapa, Atiku met Gabriel Volpi
, an Italian businessman in 1982, and started an oil and gas logistics business together.
They registered the Nigeria Container Services (NICOTES), which operated from a container office at Apapa Ports for a while. When the business began to grow, the company was relocated to the Federal Lighter Terminal in Port Harcourt.
NICOTES would later become Integrated and Logistics Services (INTELS), a multi-billion naira business that provides over 15,000 jobs in Nigeria and other African countries.
Investment in education
In 1992, Atiku and his second wife, Ladi, established ABTI Nursery and Primary School in Yola. They followed this up with ABTI Academy, an elite high school with boarding facilities modeled after the British public school.
The establishment of the school was followed by ABTI-American University in Yola which is now known as the American University of Nigeria (AUN). The school provides American-style university education to students.
AUN is currently one of the most expensive private universities in Nigeria. Depending on the course of study, tuition fees at the institution range between N2 million and N3 million per session.
Agriculture
In 2014, Atiku posted on Facebook that in 1981, he moved into agriculture and his farms grew to become the largest producer of corn in Gongola which later became Adamawa State. There are reports the business was forced to shut down in 1986 because it didn't flourish.
Despite these income streams that position Atiku as one of the wealthiest politicians in Nigeria, there are still corruption allegations about his source of wealth. But whatever the allegation is, the former vice-president of Nigeria has the aforementioned businesses to point at as his income sources.