#African News
#News
How Bola Tinubu made his money
Tinubu is arguably the richest presidential candidate in the forthcoming election, but how did he amass his wealth?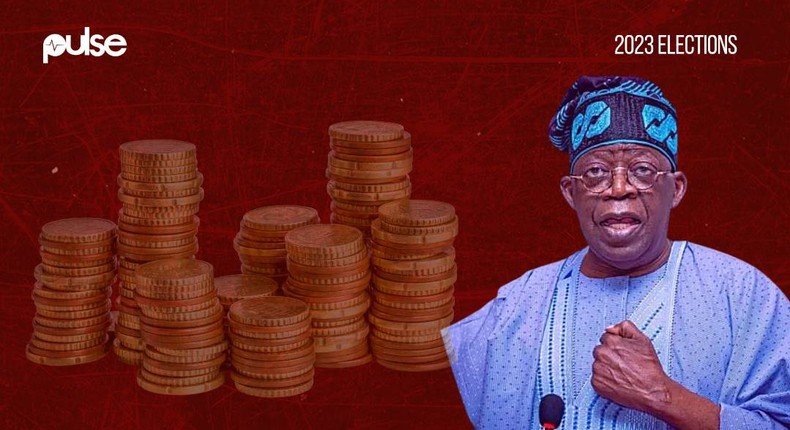 Nigerians have a strong conviction that it's easier for a camel to pass through the eye of a needle than for them to know the actual net worth of their politicians.
Unlike in many developed democracies where politicians, especially those who have held elective positions, can boast of traceable financial history, Nigerian politicians habitually make their record of earnings a matter of secrecy.
In the rare instances where they manage to provide an explanation, the claims are mostly tainted by inconsistencies and disjointed narratives, thereby throwing more confusion into the mix.
This scenario holds true for one of Nigeria's most influential politicians of all time and the All Progressives Congress (APC) presidential flag-bearer, Asiwaju Bola Tinubu.
Since his entrance into the Nigerian political space in 1992, as a senator representing Lagos West Senatorial District, Tinubu has cut the figure of an affluent politician who sits on wealth bigger than expected of a public office holder.
This public image has constantly subjected him to intense scrutiny through his days as the governor of Lagos State and even beyond, which only reinforces Nigerians' long-held suspicion that politicians suddenly grow fatter bank accounts once they assume the position of power.
While that perception remains an undecidable proposition, the undeniable truth, however, is that Tinubu was stupendously rich — or so he wants everyone to believe — long before he decided to join politics.
But Nigerians remain curious about how Tinubu acquired the wealth attributed to him.
So, in his own words, how did Bola Tinubu make his money?
Early breakthrough
After graduating from Chicago State University, Tinubu worked in the United States for Arthur Andersen, Haskins, & Sells, and GTE, but his major financi al breakthrough came during his time with Deloitte.
"At Deloitte and Touche, I chose to travel more than 80% of my working years there. And that is because if staff chose to travel, he would make more money because he would get travel allowances," Tinubu said during his 64th birthday celebration in 2016.
He said his account was credited in millions after he returned from an assignment where he had helped the National Oil and Aramco in Saudi Arabia to set up an accounting and auditing system for a joint venture.
"The bonus was $850,000, before taxes. My salaries were also being paid into the bank and I was not touching them. At the time, my salary deposits in the bank had risen to about $1.8 million," Tinubu claimed.
Selling rice and chemicals
According to several accounts corroborated by the highly revered playwright, Prof. Wole Soyinka, Tinubu made some fortune from importing rice and chemicals into the country.
While speaking at the 5th Bola Tinubu Colloquium, an annual event to mark Tinubu's birthday, Soyinka recounted how the former governor was able to raise money by selling rice to sustain the pro-democracy struggle while they were forced into exile by the Sani Abacha military government in the 1990s.
Tinubu's campaign spokesperson, Bayo Onanuga, also corroborated this in a 2022 interview.
Investments
Tinubu has also laid claims to an array of investments as the backbone of his massive wealth.
In a BBC interview he granted late in 2022, he attributed his source of wealth to real estate he inherited from an unnamed person.
He said, "I inherited great real estate; I turned the values around."
Onanuga has also mentioned the former governor also had several petrol stations.
Joe Igbokwe, a chieftain of the APC in Lagos suggested that the Jagaban also invested in Apple Corporation as far back as 1980. Igbokwe, who argued that Tinubu was already a dollar millionaire 10 years before he became governor, said "Any Nigerian who was smart enough to invest a mere N1.8 million in Apple Corporation shares in 1980 will be worth more than N10 trillion today."
Unclaimed reported assets
While Tinubu has, directly or through proxies, claimed ownership of all the aforementioned wealth, there is a plethora of other properties and investments that have been linked to him, but which he has neither claimed nor denied.
For instance, the long-held belief that he owns Vintage Press Limited, the company that publishes The Nation Newspaper, is evident in the editorial leanings of the national daily. Same can also be said of Television Continental (TVC) and Radio Continental, two broadcasting mediums that seek to promote and defend the interests of Tinubu and by extension his political party.
Besides his alleged investments in the media industry, the former Lagos governor has also been credited with owning commercial edifices, including the Ikeja Shopping Mall, NNPC office building, Falomo Shopping Centre, and joint ownership of Tejuosho Market.
Tinubu has also been accused of converting state-owned properties to his. The land on which TVC is situated formerly belonged to the Lagos State Polytechnic (LASPOTECH). The same applies to the old Lagos School of Nursing building in Igando and the Mayegun Land Project which he has allegedly acquired.
The list of Tinubu's allegedly unclaimed businesses is inexhaustible, but a couple of them have remained subjects of controversy. The Lekki Concession Company (LCC), a Special Purpose Vehicle set up specifically to execute the Eti-Osa Lekki Toll Road Concession Project, which has continued to be linked with the APC presidential candidate, is one of them.
But the most controversial business linked to the former governor which he hasn't claimed is the tax generating firm, Alpha Beta Consulting, which critics say he's mainly used to siphon money from the Lagos State treasury to his private accounts.