#African News
#News
10 unforgivable sins committed by Emefiele
Emefiele has been suspended by President Tinubu with immediate effect and the possibility of him returning to the CBN is almost non-existent.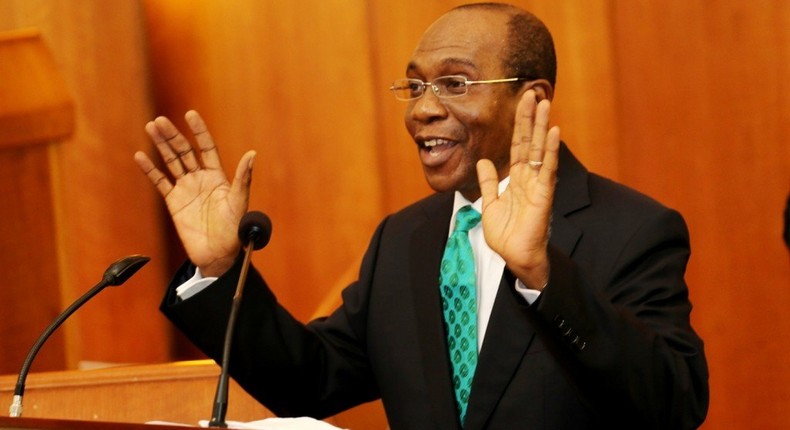 Emefiele finally met what might appear to be his waterloo on Friday, June 10, 2023, when the presidential hammer landed on his ever-shining, but delicate head.
In a not-so-shocking development, President Bola Tinubu dropped the axe on Emefiele who had caught the figure of a pariah in some sort, largely due to the excruciating effects of his many ill-thought-out, poorly-executed fiscal and monetary policies on Nigerians.
The reactions that have trailed the controversial CBN governor's suspension so far suggested that President Tinubu may jolly well have ended the reign of economic terror and wanton financial servitude most Nigerians were subjected to in the last decade.
When the news broke on Friday night, you could hear a national sigh of relief, so silent, but still audible enough to reverberate across the country. It was one of such very rare occasions when Nigerians collectively agreed on a course of action.
Such was the kind of impact Emefiele had on the nation. He was not only one of the longest-serving government appointees but also held a position that was crucial to the economic prosperity and survival of Africa's most populous country and its citizens.
But, his stint will be etched in the annals of history as the one that ushered Africa's biggest economy into the worst economic phase in its over 60 years of nationhood.
Having been privileged to serve under three different presidents, one would imagine that Emefiele will exit office amid pumps and pageantry, but the reverse is clearly the case.
Below are 10 reasons Nigerians may never forgive Emefiele
1 Naira plunged to an all-time low: Under Emefiele's watch, the nation's currency suffered a great deal. The naira, which was exchanging for ₦190 to one United States dollar before he assumed office in 2014, sank to an all-time low, trading at over ₦750 at the parallel market as of Friday.
2 Encouraged forex arbitrage and round-tripping: Against advice by experts, including the International Monetary Fund (IMF) and the World Bank, that the naira should be allowed to find its true value, the suspended CBN governor spent trillions of naira trying to defend the currency but to no success.
He also created a window for Importers and Exporters to access dollars at subsidised rates in a bid to keep inflation at bay. While the answer to whether the intervention was successful or otherwise is still blowing in the wind, what is in no doubt is the price discrepancy it created in the market.
As a result of this, some unscrupulous elements who are opportune to access forex in the I&E window smiled to the banks at the expense of the Nigerian masses by profiting heavily from currency arbitrage and round-tripping.
3 Banned Crypto trading: Arguably, the biggest blow Emefiele dealt the young population was his decision to prohibit banks from dealing in cryptocurrencies or facilitating payments for cryptocurrency exchanges in Nigeria in 2021.
Justifying his decision to ban cryptocurrency-related transactions in the country, he claimed that digital currency was being used for money laundering and terrorism, adding that the use of cryptocurrencies in Nigeria is a direct contravention of existing law.
Though the apex bank promised to bring up a regulatory policy framework for the implementation of cryptocurrencies in the country, not much has been heard about that since.
4 Accused a website of causing naira devaluation: Perhaps the most ridiculous act from an apex bank governor anywhere in the world. Frustrated by his failure to rescue the falling naira, in September 2021, Emefiele accused AbokiFX of economic sabotage.
The online platform is famous for publishing daily foreign exchange rates in the parallel market and is a popular reference point for traders. But, the suspended CBN governor said, by publishing speculative black market rates, the platform and its founder, Oniwinde Adedotun, were influencing the naira value.
5 Dabbled into politics: If his sins were to be ranked, this particular one will take the top spot. In a very surprising move and against the rules of his office, Emefiele decided in his wisdom that he wanted to succeed President Muhammadu Buhari as Nigeria's president.
Even though he never came out to declare this ambition, pictures emerged online of campaign vehicles painted with his image on them. Also, a group of All Progressives Congress (APC) supporters purchased the party's presidential expression of interest and nomination forms in his name.
As criticisms grew about his inordinate ambition, Emefiele approached the court to seek clarification on whether he is eligible to contest for president without resigning his position as the CBN governor. The court ruled against him.
6 Introduced Naria re-colouration and cashless policy: Reeling from his failed presidential bid, Emefiele decided to get back at the politicians who he believed thwarted his dream and sold the dummy of naira redesign and cashless policy to the former President.
Against the expectations of many Nigerians, the purported naira redesign later turned out to be a mere recolouration as the affected notes still retained their old designs with just a little colour variation.
However, his intention became clearer as we approached the last general elections. What was meant to be a cash swap later turned to cash confiscation as Nigerians were denied access to their money, leading to protests and chaos in several states across the country.
7 Alleged Terrorism financing: While this still remains in the realm of speculation, several reports have alleged that the Department of State Services (DSS) has established a link between the embattled banker and terror financing in the country. He was accused of funding the activities of the proscribed pro-Biafra group, IPOB and other such groups in the country.
8 Refused to pay Paris Club refund: Emefiele has a pending case before Justice Inyang Ekwo of the Abuja Federal High Court over his refusal to effect payment of $53 million judgement debt arising from the Paris Club refunds.
The suspended CBN governor was initially invited to appear before the court on January 18, 2023, to explain his refusal to obey a valid order for payment of a $70m debt.
Emefiele has only released $17 million, leaving $53 million in unpaid debt.
9 Failed to tame raging inflation: Despite spending trillions of naira in form of interventions to bring down inflation, Emefiele successfully failed in this singular task as inflation surged to an 18-year high from 9% in 2014 to 22% in 2023.
10 Illegally printing money: Emefiele was also accused of printing money for the federal government to the tune of ₦22 trillion, an action considered to be illegal for an apex bank.