#African News
#News
Ministries where Tinubu's ministerial nominees could fit in
Here are the ministries we believe Tinubu's ministerial nominees will slot perfectly into.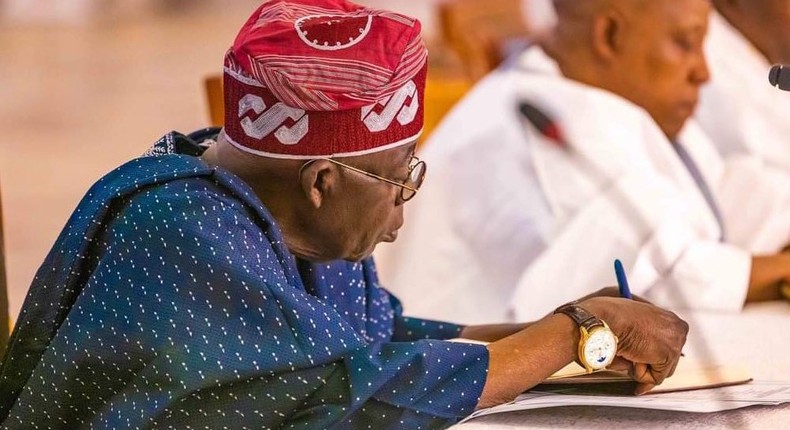 The President forwarded the list containing names of politicians including former governors, lawmakers and technocrats without indicating the ministries they would supervise.
The list comprising 21 male and seven female nominees, according to the President, is not exhaustive, meaning more names would be sent to the National Assembly for confirmation in the coming days.
The President's Chief of staff, Femi Gbajabiamila, has also confirmed he would send 13 more names to the National Assembly as he plans to create more ministries.
While Nigerians await the full list of President Tinubu's nominees with their assigned ministries, this piece seeks to speculate the ministries where some of the nominees could fit in considering their political history, professional background and antecedents.
Lateef Fagbemi — Ministery of Justice
Lateef Fagbemi is a prominent jurist who has many successful and high-profile cases to his name. The Senior Advocate of Nigeria (SAN) is currently leading a legal team of 12 SANs to defend the All Progressive Congress (APC) and Tinubu's victory at the Presidential Election Petition Tribunal (PEPT).
Due to his successful career in law, Fagbemi is being tipped to become Nigeria's next Minister of Justice and Attorney General of the Federation.
Wale Edun — Ministry of Finance
Wale Edun is one of the nominees in the special group dubbed 'Tinubu's Boys' because of his relationship with the President.
During Tinubu's tenure as the governor of Lagos State between 1999 and 2007, Edun served as Commissioner for Finance for both terms.
His nomination was expected as he currently works with the President as Special Adviser on Monetary Policies.
With a background in economics, public finance and international finance, the 56-year-old technocrat is most likely Nigeria's next Minister of Finance.
Dele Alake — Ministry of Information
Dele Alake is another one of the so-called Tinubu's Boys among the ministerial nominees. Like Edun, he worked under the Presidentas the Lagos State Commissioner for Information and Strategy between 1999 and 2007.
He currently works as a Special Adviser to the President on Special Duties, Communications and Strategy.
And with his background in journalism, Alake is believed to be the incoming Minister of Information.
Betta Edu — Ministry of Women Affairs / Health
Being the National Women Leader of the ruling party and playing an impactful role in the party's presidential campaign puts 36-year-old Edu in a pole position to become the Minister of Women Affairs and Social Development.
Edu is a doctor by training, and given her political history, she may also be found suitable as a junior minister for the Federal Ministry of Health.
Nasir El-Rufai — Ministry of Works
Before he became the Governor of Kaduna State, Nasir El-Rufai built his reputation as the master builder who gave the Federal Capital Territory a huge face-lift under the administration of former President, Olusegun Obasanjo.
As a Quantity Surveyor, El-Rufai does not hide his love for the built environment. He restored the master plan of Abuja city during his short period as FCT Minister.
From the foregoing, El-Rufai may be considered for the Ministry of Works.
Nyesom Wike — Niger-Delta Affairs
Despite being an opposition party member, the immediate former governor of Rivers State, Nyesom Wike, made the ministerial list. He is one of the most influential politicians in the South-South region.
Nicknamed Mr Project due to his numerous infrastructural projects in Rivers State, Wike is in a pole position to become the next Minister of Niger Delta to accentuate t he development and infrastructure drive of the region.
Adebayo Adelabu — Ministry of Trade and Investment
Adebayo Adelabu's professional career revolves around banking and finance — so grounded in the field that he became the Executive Director/Chief Financial Officer (CFO) of Nigeria's largest bank, First Bank of Nigeria Plc. (FBN) at the age of 39.
In February 2014, former President Goodluck Jonathan appointed him as Deputy Governor, Operations of the Central Bank of Nigeria (CBN).
With his profile and background in finance, Adelabu may be considered to lead Nigeria's Ministry of Trade and Investment.
Ali Pate — Ministry of Health
Ali Pate is a medical doctor and Professor of the Practice of Public Health Leadership in the Department of Global Health and Population at Harvard University.
He was a former Minister of State for Health under President Jonathan's administration.
Pate's CV is heavy on health and it would not be surprising if he emerges as the next Minister of Health.
Hannatu Musawa — Ministry of Culture and Tourism
Since the President plans to create new ministries, we envisage that the Ministry of Information and Culture may be split into two.
Days after her appointment as a Special Adviser to the President on Culture and Entertainment Economy, Musawa outlined the Federal Government's plans to boost growth in Nigeria's creative economy.
It seems she's already preparing herself for the role of the Minister of Culture and Tourism.
Prof Joseph Utsev — Ministry of Water Resources
Prof Joseph Utsev reportedly has 17 years of teaching and professional experience.
He is a renowned civil and water engineer with a BSc degree in Engineering, and both Master's and PhD degrees in Water Resources and Environmental Engineering.
Based on his experience and academic profile, Prof Utsev is not far from becoming the man to take charge of the Ministry of Water Resources.